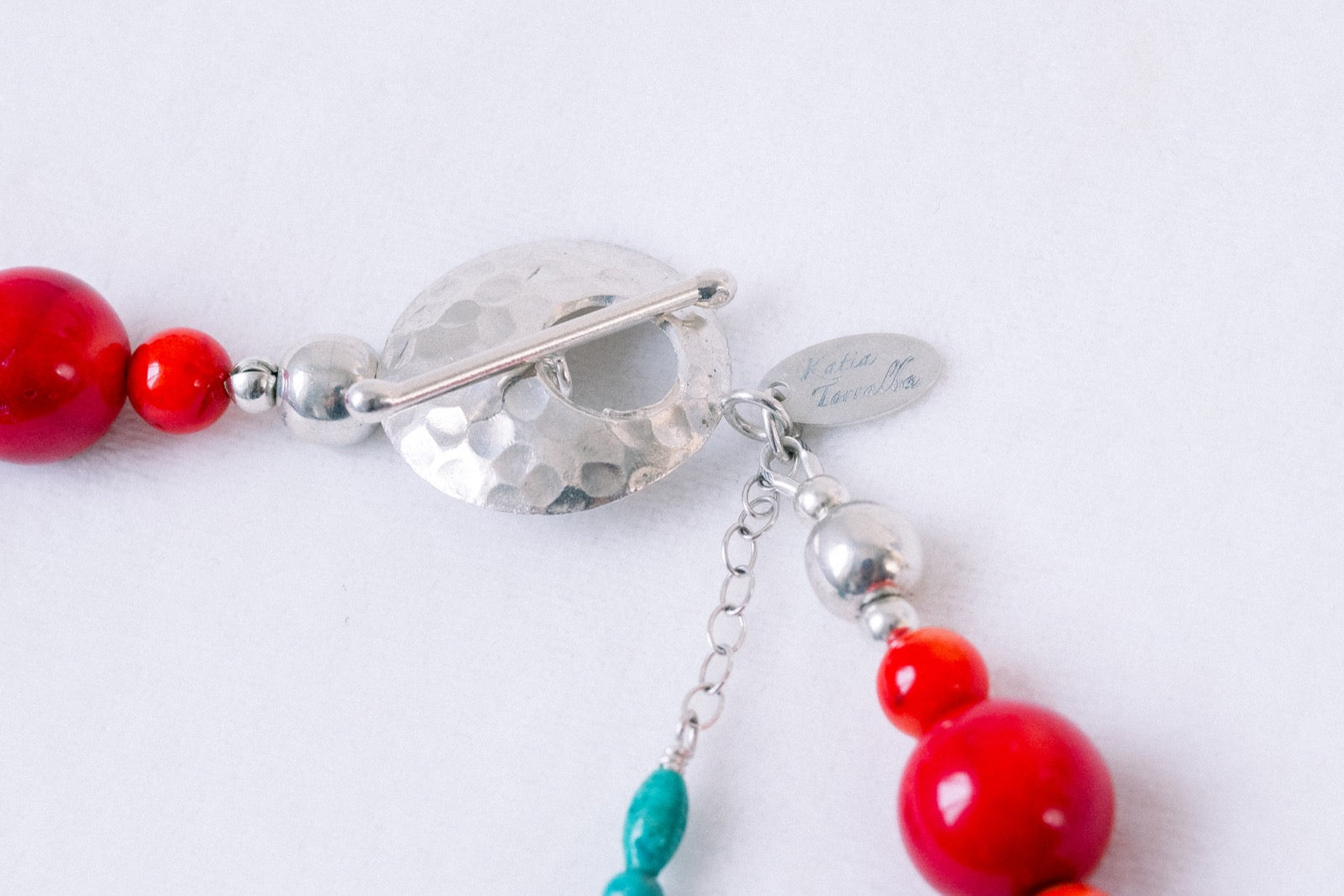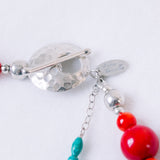 Bamboo Coral, Turquoise, Hill Tribe Silver, Long Necklace.
Description

Message

Details

Care
When I work with bamboo coral, it very rarely calls for a different crystal but this time, the pull towards the turquoise was undeniable. I had purchased many years ago these gorgeous pebbles like turquoise that very naturally found their place amongst the beautiful bamboo coral. This very special necklace was born at the summer equinox and holds a powerful shamanic Spirit: protective, transformative and fearless. A stunning talisman ready to guide your steps and support your Soul's journey.
"We bring you the alliance of Water and Sky. Feel our strength as we breathe together and connect to our Soul. In our veins runs the blood of Shamans, their wisdom and deep connection to Mother Earth. Sense the roots of the trees, see through the eyes of Wolf and embody Eagle soaring high above the mountains. Like the Shaman, you have the ability to change and transform. We give you the strength to rise above any difficult circumstances and observe your life from a different perspective with peace in your Heart. You are Eagle. You have the force and discernment. You are Wolf. You possess resilience and patience. Your journey is your own to create. Together, we walk fearlessly the path of the Shaman to birth a new life, a new world. Know that you are loved, protected and guided. Always"

Mantra: I walk fearlessly on a path of transformation with peace, strength and love in my Heart and Soul.

- Turquoise, bamboo coral.
- Hill Tribe silver beads and clasp (high-quality form of silver ranging between 95-99.9%)
- Sterling silver Katia Torralba tag and charm.
- Length: 71cm / 28 inches. Necklaces may lay differently from the photographs based on your measurements.
- Weight: 206g.

Kindly note, shade and appearance may vary slightly from the photographs on the site. Gems are creations of Mother Earth, small marks and irregularities are to be expected. I believe it adds to the beauty and originality of each piece.
Turquoise can be fragile and porous. Heat protection is paramount and all chemical contact should be avoided. Be particularly wary of hitting the gems too harshly on surfaces. Ultrasonic or steam cleaning will break down the mineral. Detergents, soap or cleaning solutions are harmful. Wiping the piece with a damp cloth and quickly drying it is enough to keep the gem in excellent condition.
---
Complimentary services
Every order arrives beautifully packaged and ready for gifting. It includes care instructions, a polishing cloth as well as the name and message of your precious talisman. Ordering as a gift? If you wish to include a note, please leave your message at check out or send me an email. 
30 minutes virtual consultation for any piece you purchase.  In this session we go further into your gemstones message, and I guide you to work with them on a deeper level. 
One year repairs warranty.
Katia Torralba jewellery
I create every jewellery piece in my atelier in the French Alps, using quality materials from sources I trust. Like you, every jewel is unique, born with a name and message that I channel during a meditation, dedicated to your own empowerment.

Free Worldwide Shipping.
Worldwide shipping is complimentary on all orders.

14 Day Returns.
Two weeks change-of-mind policy.

Safe & Secure Shipping.
Your jewellery is securely packed in a plain parcel & shipped with insurance and signature required.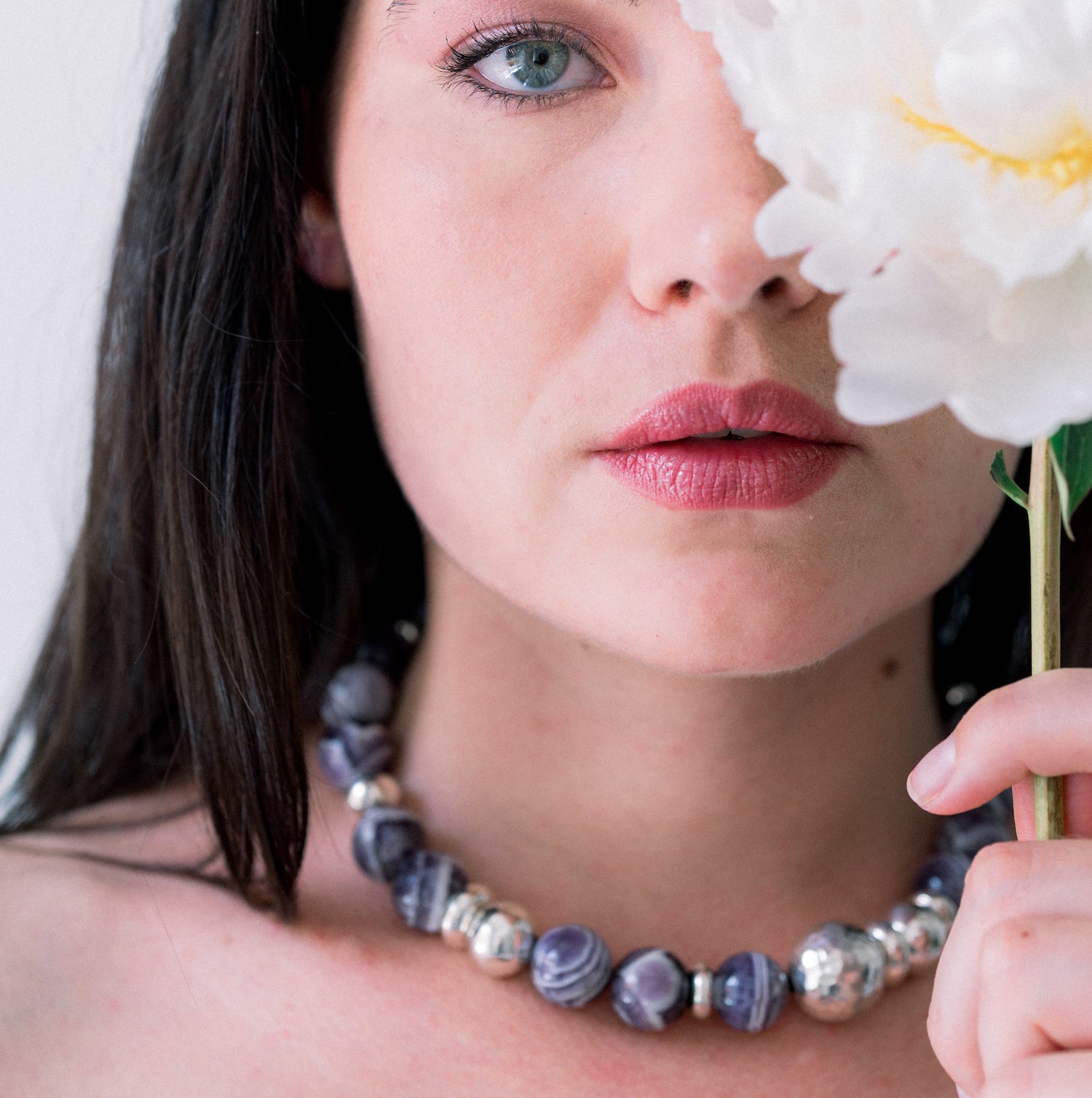 Impact
My collection is very intimate, born from a desire to honour our relationship with Mother Earth and shape new consumption habits more respectful of the world around us.