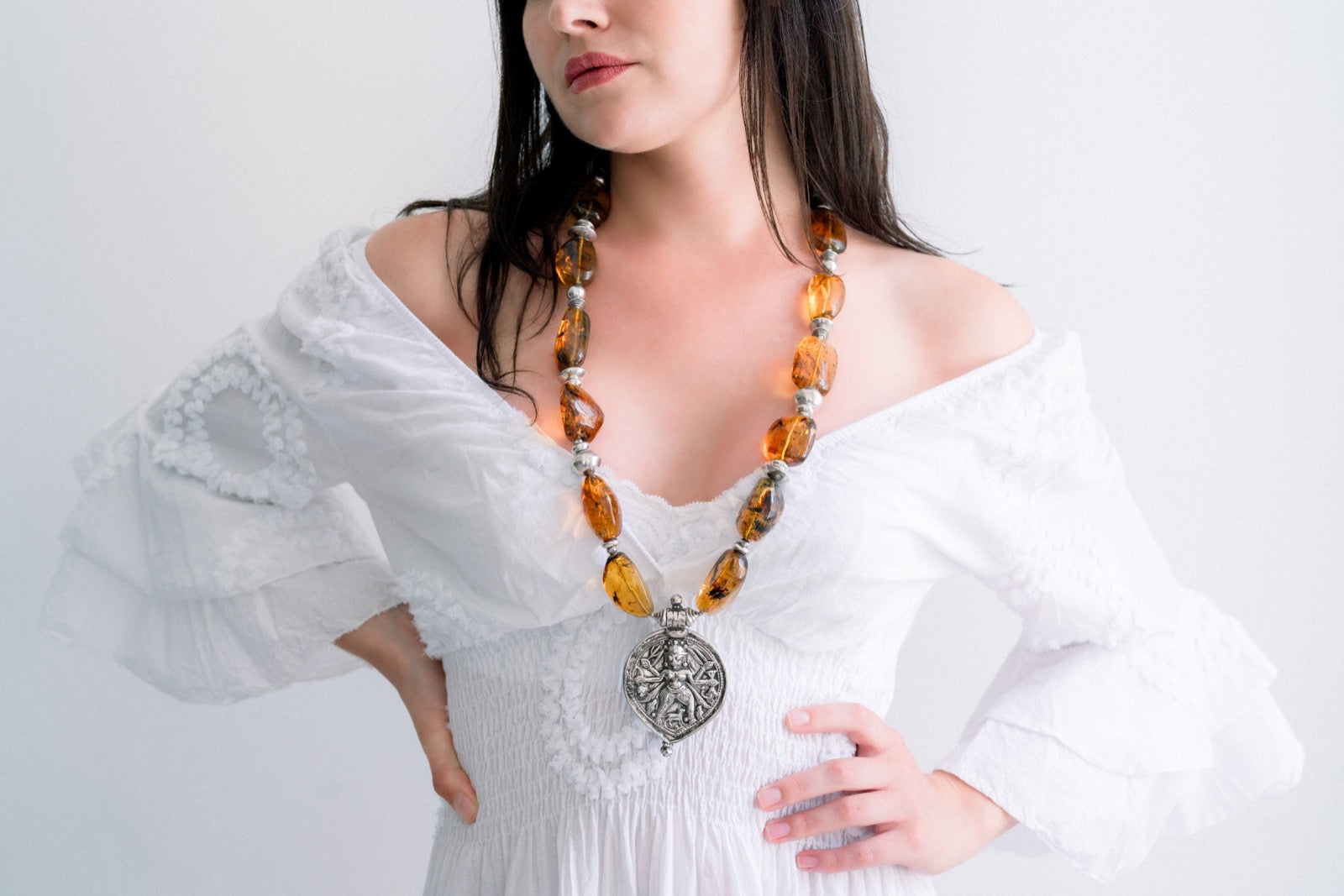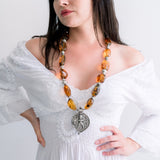 Mexican Amber, Hill Tribe Silver Beads, Vintage Indian Shiva Silver Pendant, Long Necklace.
Description

Message

Details

Care
This is an extraordinary jewellery piece and undoubtedly my favourite. I chose the stunning Mexican amber which is quite rare and one of the highest quality in the world. How fascinating knowing that you wear a gem that is 15 to 23 million years old! The beautiful Hill Tribe beads with their almost pure silver content enhance the gorgeous colour of the Amber.
The vintage Shiva silver pendant was a wonderful discovery during my first trip to India 25 years ago. I kept it preciously for many years waiting for a very special gem. And here we are… an exceptional talisman ready to support your steps and nurture your Soul.
Or, create a peaceful, loving and harmonious living space...
During a photo shoot, the photographer decided to hang the gorgeous Mexican Amber necklace on the wall, on a piece of driftwood. This lovely coincidence was the last step in my decision to bring the gems in the intimacy of your living space, allowing them to instil harmony, balance and protection in your home.
"Millions of years of existence are held within us, traces of life long extinct and we will be here millions of years to come. So is your Soul. Like us, you are rooted in the infinity of time. We wish to share your journey in these times of critical evolution for humankind and our planet. Our energy is filled with loving power, wisdom and peace. So is your Spirit. You are a warrior of Light, a beacon guiding those lost in darkness and fear. Our strength is yours to use, our message of peace for you to share and our compassion to bestow on yourself and others.
We are your talisman of protection, shielding you from negative energy. We are your talisman of courage and inner strength, inspiring you to act with wisdom and love. We are your talisman of joy and inner peace, walking with you every step of your enlightening journey. Know that you are magnificent and wise. We are honoured to share your life path.

Mantra: I share my wisdom and the lessons I have learnt. I use my power lovingly. I honour my journey as I honour others and Mother Earth.

- 29 to 45 mm Mexican amber (16 pieces). Certificate of authenticity from my supplier.
- Mexican amber was formed in a tropical forest from extinct tree species. It was known to the ancient Maya and traded to the Aztecs. It is natural and not treated like most Baltic amber. The total production of Mexican amber is probably only about a hundred kilos a month; it is very much a cottage industry, therefore there is only a very limited amount on the market.
- Hill Tribe silver beads and clasp (high-quality form of silver ranging between 95-99.9%)
- The Mexican Amber necklace is 87 cm / 34.2 in. It may lay differently from the photograph based on your measurements.
- The silver vintage Shiva pendant is 9cm / 3.5 inches long and 6cm / 2.3in wide.
- Weight: 252 g.

Kindly note, shade and appearance may vary slightly from the photographs on the site. Gems are creations of Mother Earth, small marks and irregularities are to be expected. I believe it adds to the beauty and originality of each piece.
Amber has a hardness of 2 to 2.5 on the Mohs scale which makes it soft, so care must be taken. Heat protection is paramount and all chemical contact should be avoided. Be particularly wary of hitting the gems too harshly on surfaces. Ultrasonic or steam cleaning will break down the mineral. Detergents, soap or cleaning solutions are harmful. Wiping the piece with a damp cloth and quickly drying it is enough to keep the gem in excellent condition.
---
Complimentary services
Every order arrives beautifully packaged and ready for gifting. It includes care instructions, a polishing cloth as well as the name and message of your precious talisman. Ordering as a gift? If you wish to include a note, please leave your message at check out or send me an email. 
30 minutes virtual consultation for any piece you purchase.  In this session we go further into your gemstones message, and I guide you to work with them on a deeper level. 
One year repairs warranty.
Katia Torralba jewellery
I create every jewellery piece in my atelier in the French Alps, using quality materials from sources I trust. Like you, every jewel is unique, born with a name and message that I channel during a meditation, dedicated to your own empowerment.

Free Worldwide Shipping.
Worldwide shipping is complimentary on all orders.

14 Day Returns.
Two weeks change-of-mind policy.

Safe & Secure Shipping.
Your jewellery is securely packed in a plain parcel & shipped with insurance and signature required.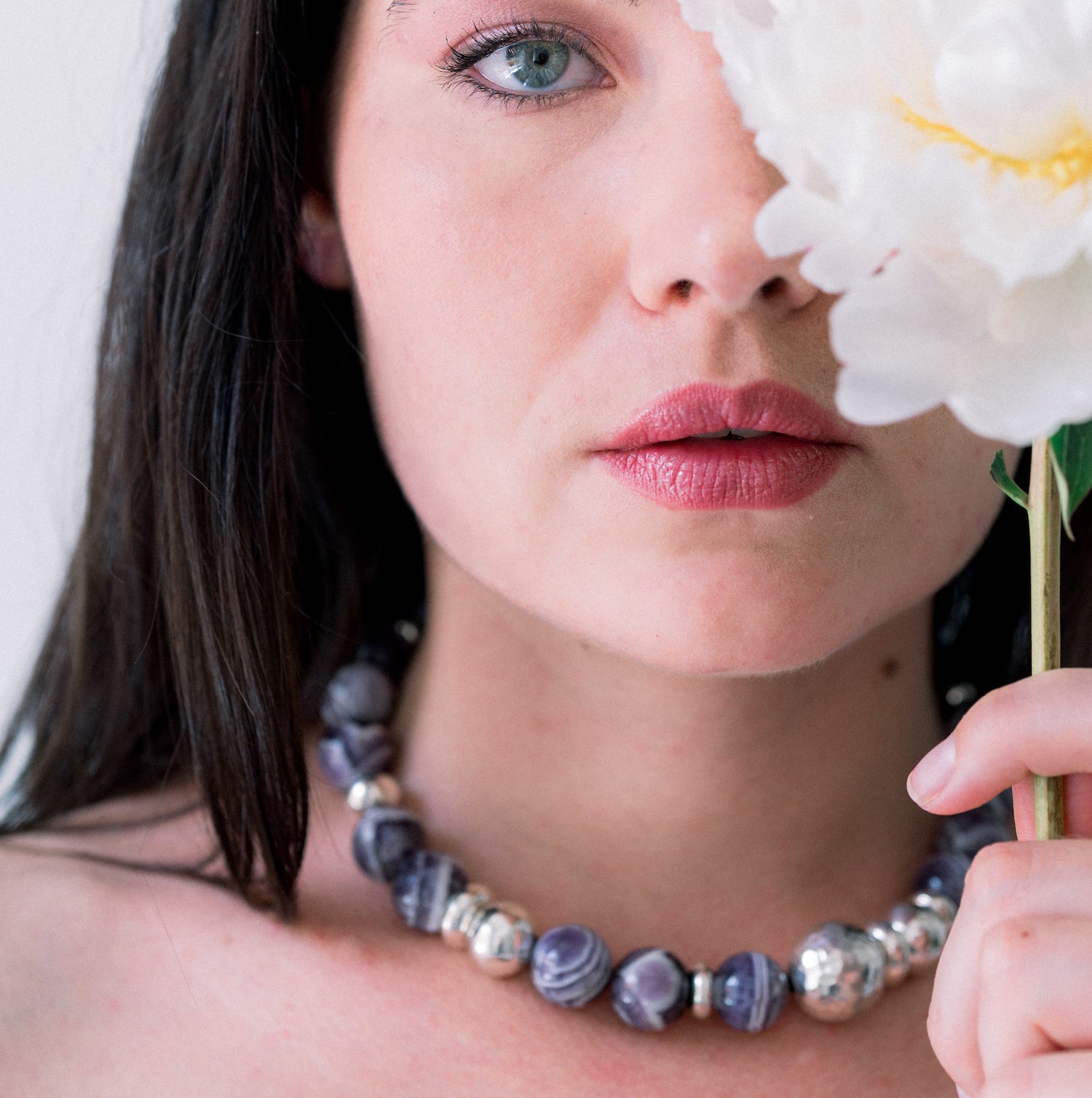 Impact
My collection is very intimate, born from a desire to honour our relationship with Mother Earth and shape new consumption habits more respectful of the world around us.