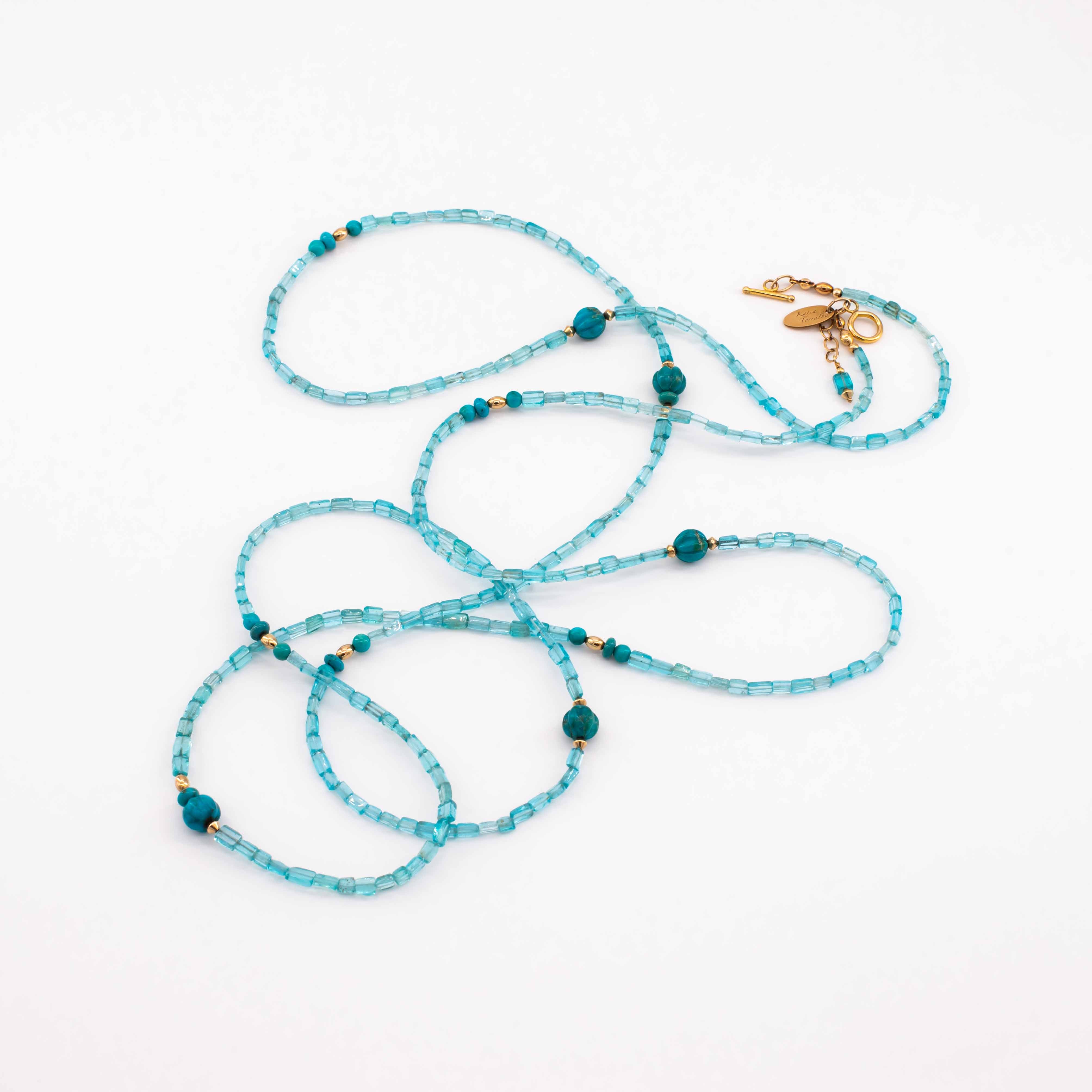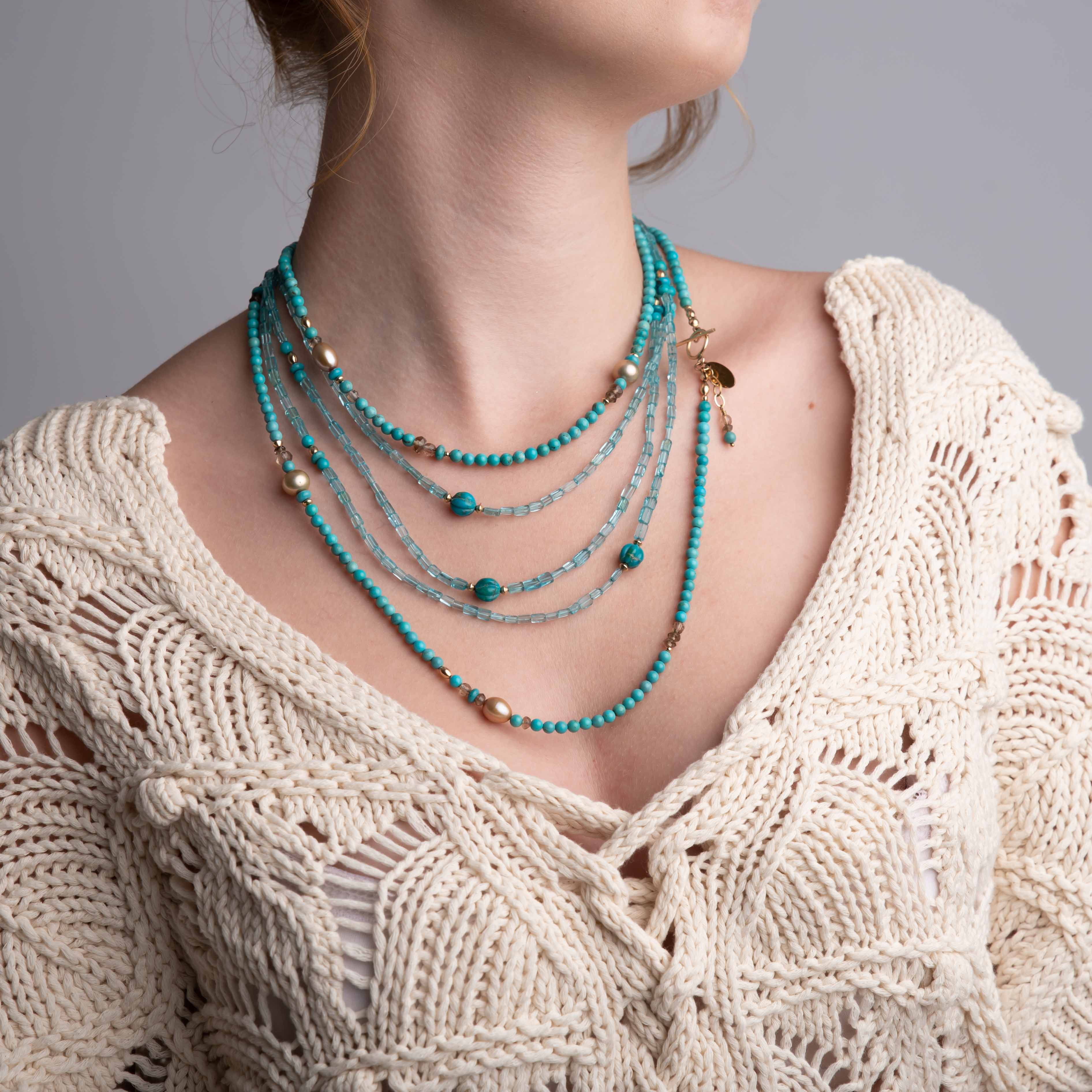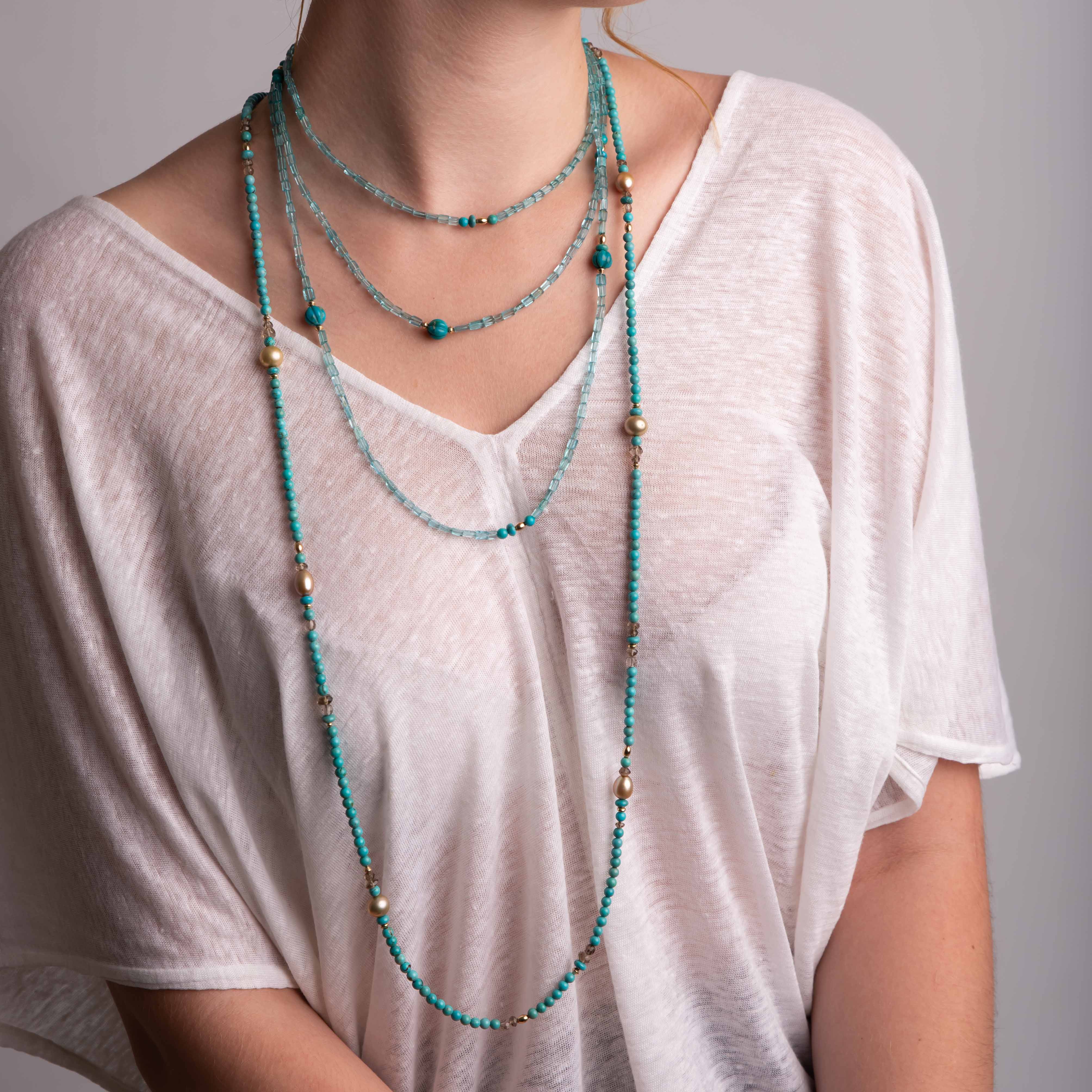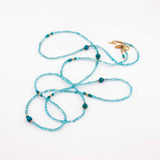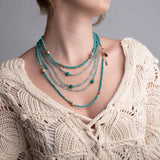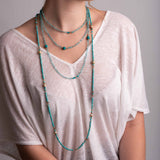 Apatite, Turquoise, Gold-filled, Long Necklace.
Description

Message

Details

Care
I was not surprised when the Apatite called for the Turquoise. They have a lot in common: they are both highly spiritual gemstones, associated with psychic perception and inner healing. The delicate translucent apatite flows freely towards the beautiful turquoise, working in synergy to magnify their metaphysical properties. This is a very long and versatile necklace that can be lovingly wrapped around your neck two or three times and worn at different lengths. You will find its caring energy very motivational, enhancing your self-confidence and self-acceptance.
"We bring you the energy of another realm where peace prevails. This is a Sacred place of rest and rejuvenation. As you connect with us, feel the deep relaxation, the cleansing of your cells and the renewal energy. It is safe to let go of control and allow yourself to be carried to this dimension of wisdom and harmony.
We bring you spiritual nourishment and inner healing. We are your Divine compass guiding you towards your highest good. Leave behind what does not serve you anymore, it will open doors to beautiful new situations and relationships. As you make your everyday choices with love and compassion, your Truth will blossom, bringing the blessings that your Heart desires and your Soul deserves. Know that you are loved, safe, and guided. Always."

Mantra: I allow myself to rest and rejuvenate. I give myself the gift of peace so I can follow my inner guidance. My choices resonate with my Heart and Soul.
- Apatite, turquoise.
- 14k gold-filled beads, charm and clasp. Gold-filled is an alluring gold-alloy created with brass or bronze. It has up to 100 times more gold than gold plated jewellery and is therefore extremely durable.
- Length: 144 cm / 56.6 in. Necklaces may lay differently from the photographs based on your measurements.

Kindly note, shade and appearance may vary slightly from the photographs on the site. Gems are creations of Mother Earth, small marks and irregularities are to be expected. I believe it adds to the beauty and originality of each piece.
Turquoise can be fragile and porous. Heat protection is paramount and all chemical contact should be avoided. Be particularly wary of hitting the gems too harshly on surfaces. Ultrasonic or steam cleaning will break down the mineral. Detergents, soap or cleaning solutions are harmful. Wiping the piece with a damp cloth and quickly drying it, is enough to keep the gem in excellent condition.
---
Complimentary services
Every order arrives beautifully packaged and ready for gifting. It includes care instructions, a polishing cloth as well as the name and message of your precious talisman. Ordering as a gift? If you wish to include a note, please leave your message at check out or send me an email. 
30 minutes virtual consultation for any piece you purchase.  In this session we go further into your gemstones message, and I guide you to work with them on a deeper level. 
One year repairs warranty.
Katia Torralba jewellery
I create every jewellery piece in my atelier in the French Alps, using quality materials from sources I trust. Like you, every jewel is unique, born with a name and message that I channel during a meditation, dedicated to your own empowerment.

Free Worldwide Shipping.
Worldwide shipping is complimentary on all orders.

14 Day Returns.
Two weeks change-of-mind policy.

Safe & Secure Shipping.
Your jewellery is securely packed in a plain parcel & shipped with insurance and signature required.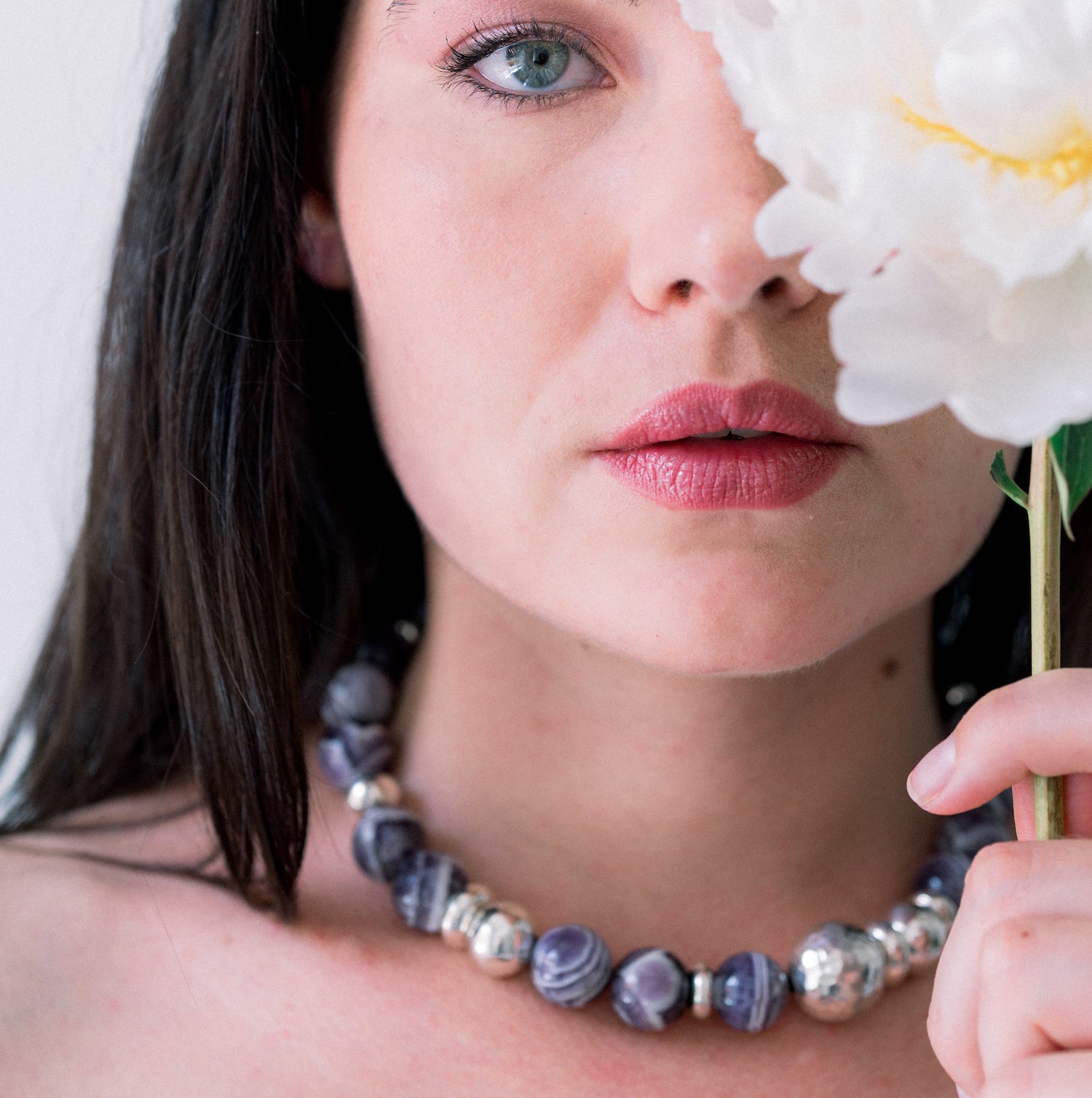 Impact
My collection is very intimate, born from a desire to honour our relationship with Mother Earth and shape new consumption habits more respectful of the world around us.